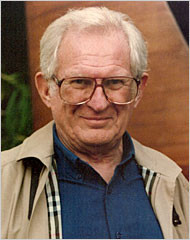 Alexander Courage
1919-2008 US, Philadelphia
Composer / Arranger of Soundtrack and Classical
A.k.a. Alexander Mair Courage, Jr.
Alexander Courage (born December 19, 1919, Philadelphia, Pennsylvania, USA - died May 15, 2008, Pacific Palisades, California, USA) was an American orchestrator, arranger, and composer of music, primarily for television and film. He was the composer of the original Star Trek theme music.