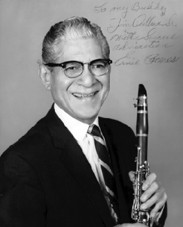 Ernie Caceres
bs, cl, 1911-1971 US, Rockport, Texas
Musician of Jazz
A.k.a. Ernesto Caceres.
Ernesto "Ernie" Caceres (Nov. 22, 1911 - Jan. 10, 1971) was an American jazz musician born in Rockport, Texas.Caceres's brothers were both musicians; Emilio was a norteño violinist and Pinero was a trumpeter and pianist. Caceres himself played clarinet, guitar, alto and baritone saxophone, and first played professionally in 1928 in local Texas ensembles. He and Emilio moved to Detroit and then New York, taking work as session musicians where they could. In 1937 they made live nationwide appearances on Benny Goodman's popular radio series Camel Caravan which "created a sensation and made them jazz stars".