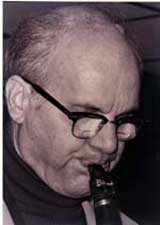 John Laporta
as, cl, 1920-2004 US
Musician / Composer of Jazz
A.k.a. John Daniel LaPorta.
American jazz saxophonist (alto, tenor and baritone), clarinetist and composer. Born : April 01, 1920 in Philadelphia, Pennsylvania, USA Died : May 12, 2004 in Sarasota, Florida, USA Played with : Bob Chester, Charlie Parker, Lennie Tristano, Woody Herman, Duke Ellington, Neal Hefti, Bill Harris, Charles Mingus, Stan Getz, Bill Evans, Billy Eckstine and many others.