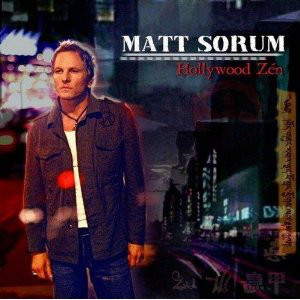 Album US 2004 on Brash Music label
Rock (Alternative Rock)
Former GUNS N' ROSES/THE CULT drummer Matt Sorum will release his debut solo album, "Hollywood Zen", on October 31 via his web site, www.mattsorum.com. Co-produced with Lanny Cordola, and engineered and mixed by Kevin Smith, "Hollywood Zen" has Sorum singing, playing guitar and drums, and features special guest appearances by some of Sorum's musical friends. Also available for sale will be 300 limited-edition copies autographed by Sorum. Featured tracks are "The Blame Game", which includes soaring guitar work by rock legend Slash (GUNS N' ROSES), and "Sunset Boulevard", an homage to the Hollywood celebrity fame game. "This is a very personal reflection of my life in rock and roll over the past two decades," explained Sorum. "It chronicles my own experiences with touring, addictions, relationships and my hometown Los Angeles. This record was a very liberating, cathartic experience." "Hollywood Zen" (view cover here) was completed earlier this year while Matt's new band VELVET REVOLVER were in the process of rehearsing and writing material for their debut CD. Sorum has been in the studio most of this month laying down the drum tracks for the as-yet-untitled VELVET REVOLVER album, tentatively due in February/March through RCA Records.